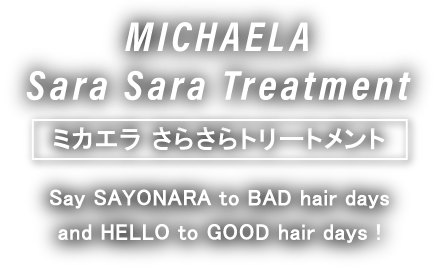 ---
"My hair condition just won't last long after having a treatment."
"My hair has gone flat after the cut!"

We have been hearing the hair woes of our Singaporean customers.
Hence SARA SARA treatment was developed to tackle this problem.

● Mark the significant improvement after having 2-3 times of treatment.

● Depending on your hair length,
Sara Sara Treatment will
last between more than 2 months.

● Some of the people are not demand for a hair rebounding afterwards.

We highly recommend pairing
it with our
COMPLIMENTARY Home Care Kit
for even more lasting results.

Used to have dull hair since I have been coloring my hair. But after having the Sara Sara treatment,the radiance is now back!
One of the best hair treatments I have ever had!My messy hair is now much more manageable.
No Regrets at all!
Thank you Michaela !
I knew that my hair was severely damaged.
But it is now reborn after the treatment.

Customized for Singapore

This is developed for the Singapore humid climate. We strive to improve your hair condition and keep it in good shape. It works even better with permed hair . Experience more manageable hair.

Natural Touch

The chemical-free Sara Sara Treatment repairs your hair from within. You can easily achieve a natural soft touch with the ion treatment.

A perfect combination of
3 types of seed oil

Moisturize your scalp and maintain soft lustrous locks with our rich treatment solution extracted from chia seed, olive and argane oil.

Apply the Michaela Original Treatment solution to your hair

Ion treatment cream will be massaged thoroughly into your hair to ensure full absorption of the chia seeds essence

With the help of the high vibration of "Sonic Style Pro" , your hair can fully absorb the nutrients from the treatment solution

To rinse the treatment once and dry the hair

The evaporating effect of straightening iron causes ionic bonding and repairs the holes on your damaged hair

Authentic Japanese salon experience
presented by top Japanese stylists
Please Contact Us Via
Email or Whatsapp
for inquiry
Hair Salon Tokyo MICHAELA

6538-0263

info@michaela.sg