Our carefully custom made quality style、Japanese Hair salon in Singapore <Hair Salon MICHAELA>
A System and Fees
24-hour online reservations. A system of discounts not only on your initial visit, but also for repeat visits.
Reservations and salon appointments that fit seamlessly into your lifestyle.

The only time I have to relax is late at night… I am in a place where I can't make phone calls…. With our busy clients in mind, we have introduced our online reservations system, the only one of its kind among hair salons in Singapore.
In addition, to show our appreciation for first-time visitors to Hair Salon Tokyo MICHAELA, not only do we offer a 20% discount on all services (including some hair care products!), we also offer our services at a fixed discount for later visits to clients who register as members*. Please see the Platinum Membership page for details.
The concept of a "Japanese quality hair salon delivering refined and attentive services," the MICHAELA promises, is not limited to technique. We will continue to dedicate ourselves each day to ensuring that our clients are able to indulge in the comforts of salon life wherever they may be.
The Salon and Its Environs
Take a break from shopping to get a new look, refresh and recharge with a head spa after work.
From businessmen and businesswomen to clients with children, we look forward to serving you in your busy lifestyle.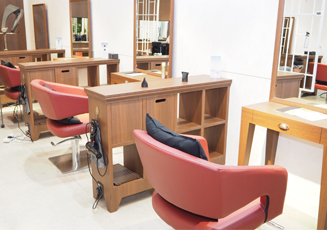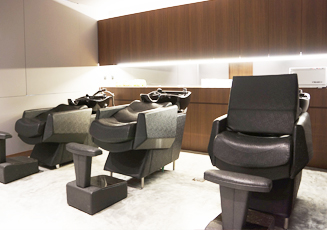 The Riverside Point building, home to Hair Salon Tokyo MICHAELA, is a 5-minute walk from Clarke Quay MRT Station and a 5-minute walk from the popular Liang Court shopping mall. We are open until 8pm, perfect for a stop while shopping or on the way home from work.
We are also equipped with a Kids' Room (stocked with picture books, DVDs, and toys) visible from the salon area, and we welcome clients with young children. Take advantage of our Kid's Cut service to get a new look with your child!
Why not take a moment to relax and indulge in our modern salon with warm wood accents?
Thorough Care of the Hair and Scalp
We have changed the water we use to care for the hair and scalp.
From our extensive list of services, we will propose the best total care solution to address a wide range of concerns, from hair damage to aging.

The hair and scalp are very delicate, and not only are they susceptible to damage from external irritants, they are also susceptible to the effects of "aging", like the face. Singapore water in particular has high concentrations of chlorine and fluorine and is alkaline, and long-term use is said to lead to negative effects such as hair loss.
Hair Salon Tokyo MICHAELA has installed a water purifier used in food manufacturing (a first for Singapore hair salons!). All of the water used in our services is "pure water" generated using an osmosis membrane system to eliminate virtually 100% of the minerals that are harmful to the hair, for water that is gentle on the hair and scalp, ensuring long-lasting color and perms and a more beautiful finish.
One of the things we are most proud of at Hair Salon Tokyo MICHAELA is our extensive selection of hair and scalp treatments. Our experienced stylists familiar with all hair types have studied and developed combinations of beauty serums, masks, and massages to specifically address our clients' concerns. The Hair Salon Tokyo MICHAELA selection of treatments believes in the importance of lifting the skin with massages and improving circulation based on our belief that the scalp is an extension of the face, soothing not only the hair but also the mind.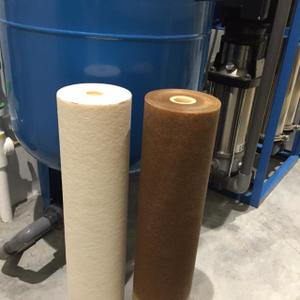 Water purifier Filter for tap water in Singapore
Left:Before Using Right:After Using