Special offer (campaign)、Japanese Hair salon in Singapore <Hair Salon MICHAELA>
Promotion
All menu at 20% OFF for the first visit
Good value! BIGAMI HUSA HUSA Set
Japanese Hair growth products
"MONNALI BLACK SERIES"
and
cleansing and moisturing your scalp with Terahertz water
"HOLISTIC CURE SHOWER HEAD"
If you buy them as a set, you'll get 10%OFF!
Let's change your hair care routine at home
to grow your hair impressively!
【MONNALI BLACK SERIES】$250(Shampoo $82 /Treatment $80 / Hair Tonic $88)
【HOLISTIC CURE SHOWERHEAD】$229
total $479 →
$431(
10%OFF
)!

※GST excluded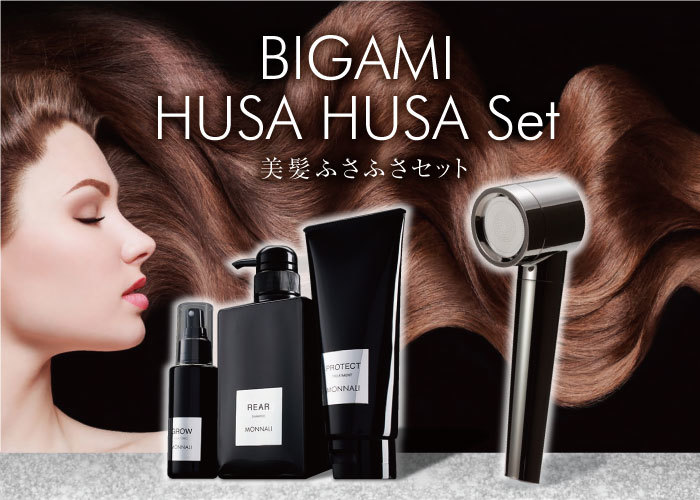 Buy Japanese hair growth products and get free head spa!
First ever in Singapore! Hair growth products originated from a hair growth specialized company.
Customers see the impressive hair growth results in 3-6month.*
Over 90% of customer repeat rate in Japan!
*indivisual result may vary.
★Nobel Prize Award Ingredient, "Telomerase"
★90% of beauty ingredients included
★Top grade ingredients suitable for everyone from children to adults
Highly recommended for people
with hair loss problem / Hair lacking in bounce / with itchy scalp and dandruff / who are aware of thinning hair
If you buy 3 of them as a set,you'll get a complimentary head spa!
Shampoo $82
Treatment $80
Hair Tonic $88
*GST excluded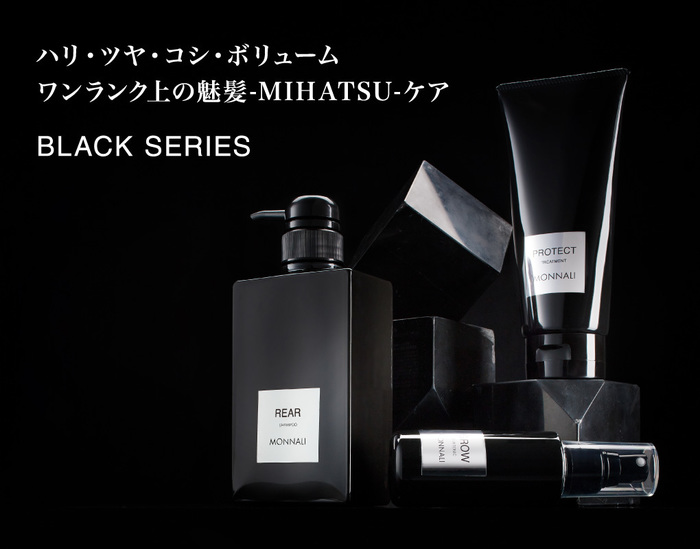 REFERRAL CAMPAIGN
Referral Campaign
Introduce MICHAELA to your family and friends
Refer a friend and
enjoy a one-time 20% off
on all service for both of you during
the campaign period !
20%OFF!
Please come to our staff for the details.
Booking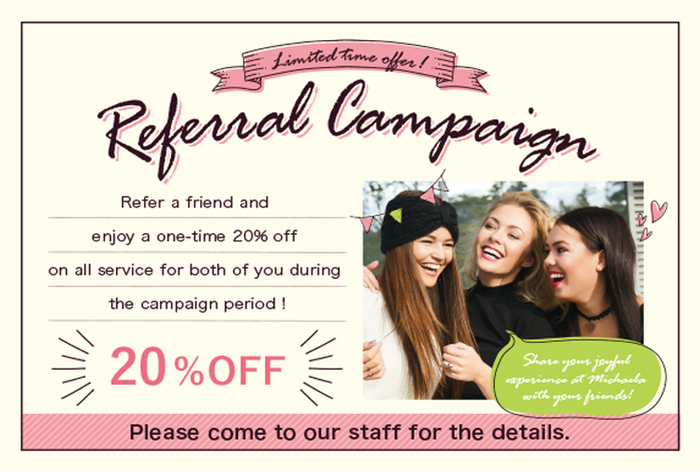 Buy in Bulk and Save! Sale Ends Soon! until April 30
Buy in Bulk and Save!
Feei it again!
We give operation ticket
according to the amount of purchase!
*Cash Refund is not available.
*Only Applicable to hair service.
*The same stylist will be serving you.
Booking
MICHAELA Signature Perm
MICHAELA Signature Perm
Limited time only:$400
Using the non-alkaline agent perm solution and MICHAELA's hair technology knowledge, A perming with no damage can rarely be found no matter in Japan nor Singapore. With our signature perming,we minize the damages of perming your hair. We propose an ideal hair design suitable for hair quality that can only be a MICHAELA stylist with high ironwork technology and chemical knowledge.
Booking