Special offer (campaign)、Japanese Hair salon in Singapore <Hair Salon MICHAELA>
Promotion
MICHAELA Signature Treatment
MICHAELA Signature Treatment
Michaela Original Products × "Sonic Styler Pro"
"Sonic Styler Pro"Vibrates at 37 000 beats per second
Using ultrasonic wave technology, the particles of protein, water and oil is separated during the treatment to allow nutrients to deeply penetrate into your hair structure. The results? Soft , smooth and glossy hair.
MICHAELA PHARMATICA
Japanese professional hair care brand – selecting only the finest ingredients for our products. Specially selected ingredients include Amino acid and 2 types of keratin (wool & feather) , which will help to repair and restore shine in your hair.
Limited offer! Until August,
PRICE $120
purchase this treatment and receivea home care set worth $40
Booking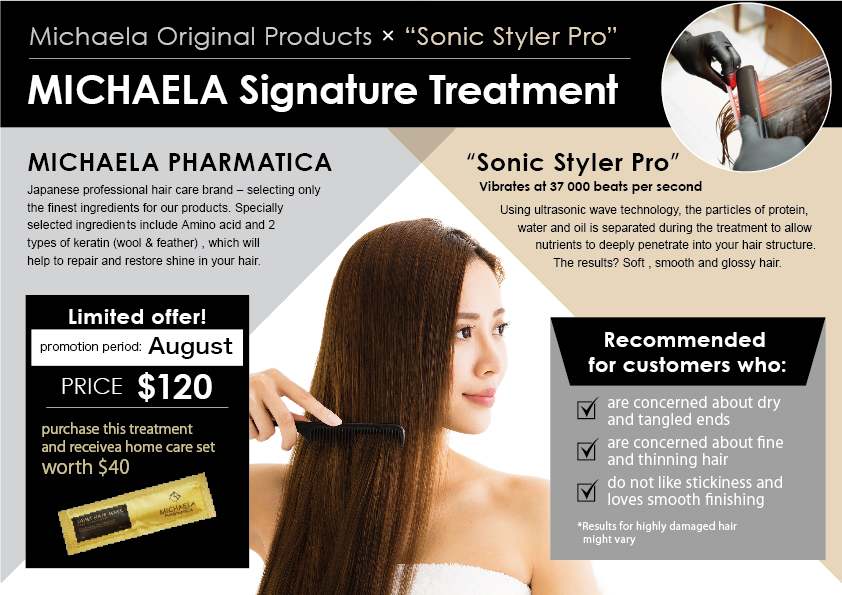 MICHAELA Signature Perm
MICHAELA Signature Perm
Regular price:$500
Limited time only:$400
Using the non-alkaline agent perm solution and MICHAELA's hair technology knowledge, A perming with no damage can rarely be found no matter in Japan nor Singapore. With our signature perming,we minize the damages of perming your hair. We propose an ideal hair design suitable for hair quality that can only be a MICHAELA stylist with high ironwork technology and chemical knowledge.
Until: 2019.08.31
Booking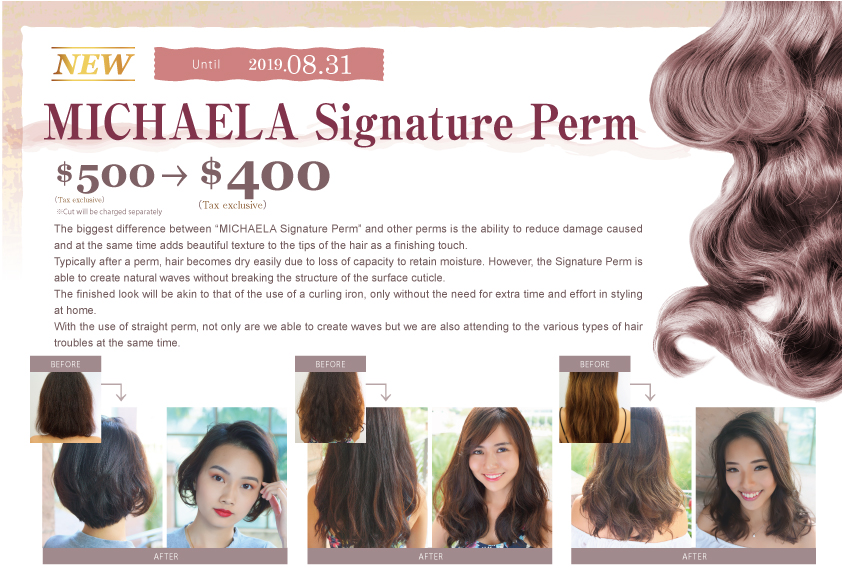 All menu at 20% OFF for the first visit