Japanese Hair salon in Singapore <Hair Salon MICHAELA in Singapore>
ホームケア商品
Home Use Hair Care Products
<NEW> E STANDARD SHAMPOO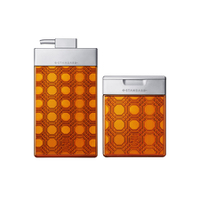 \250ml $66 / 600ml $114
STANDARD uses select beauty ingredients abundantly. Over 95%* of all elements are beauty ingredients, specifically 13 select types. This unique design amplifies the beauty of hair with every wash, achieving both damage care and aging care simultaneously.
60% to 80% of the products is made up of water, making water the most important component. Normally, purified water is used in hair care products, but E STANDARD uses 100% "Hita Tenryosui", a natural drinking water that includes an abundance of active hydrogen and minerals.
*Excludes cleansing and oil ingredients.