Japanese Hair salon in Singapore <Hair Salon MICHAELA in Singapore>
Blog
ブログ
Date : 11/05/2020 13:48
theme : News
staff : KENTA NAGATSUKA
Thank you for using Hair Salon Tokyo MICHAELA, the recent update from the government has permitted hair salons to resume operations from 12 May for basic haircuts services.
Michaela is always devoted to providing the best hair experience to you. To fight coronavirus, we have ramped up our hygienic measures recently.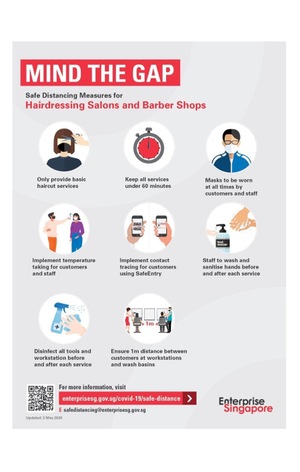 *Daily temperature taking for all staffs before commencement of work.
*Customers are now required to have their temperature taken before entering.
*Proper hand sanitization before the service.
*Fully working humidifiers around the salon with hypochlorous acid for disinfection.
*Masks to be worn at all the times by staff and customers
*We do not serve magazines for prevention temporarily
*To disinfect all tools and workstation before and after each service such as
Reception table
Locker
Door handle
Cut chairs
Shampoo chairs
Cutting Capes
Scissors
Comb
etc...
In addition,part of the profits accumulated will go to the donation fund for the COVID-19 situation as proceeds. This will be a small effort from MICHAELA in hopes of an end to COVID-19.
We thank you for the cooperation and understanding.
Operating hours weekdays11:00~20:00(19:00 last appointment)
    weekends and PH 10:00~19:00(18:00 last appointment)
Please take note our operating hours are changing.

Team MICHAELA