Japanese Hair salon in Singapore <Hair Salon MICHAELA in Singapore>
Blog
ブログ
Date : 06/05/2020 02:49
theme : Other
staff : Clara
Hello, this is receptionist Clara from Hair Salon Tokyo MICHAELA.
It's been while since my last post. Recently it's been announced that MICHAELA will be reopening on the 12th May onwards for only haircuts.
Which will be soon, next week Tuesday!
Days of working at home will come to an end. Currently slots are getting filled up and I do look forward to see customers again.
I'm sure for the stylist themselves who missed their customers a lot during this circuit breaker period. when finally they meet their customers again after a long while I'd reckon they'd be wearing smiles upon seeing their face.
---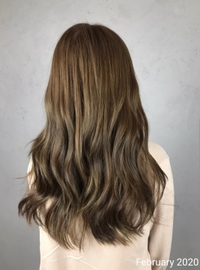 Yesterday I did my hair color using a boxed hair color dye at home since it has been almost 3 months since my last color back in February, my black roots have grow out about 1.5cm, the color has faded out into a light brown that looks especially bright under the sunlight and besides, hair coloring at salon is also out of option. Thus, I chose a cool toned ash color, waited for 20 minutes before rinsing it off.
Until three years ago before I have been getting my hair colored at salons, I have used those liquid mixture and bubble foam type box dyes over a certain period. This time I went with the bubble foam type.
For the color I chose, I wanted to know if the color outcome will be accurate. I went on to various media sites and looked into contents from Japan as well.
Honestly, it was an ambiguous search as there was not a lot of information. (Note: This may differ with other popular colors)
Based on a number of review videos using the products from the same product range. Some people started out with virgin black hair, others with brown hair or lightened hair. Some said that it doesn't work for them, some didn't get what they expected but the outcome was a color that they do not dislike.
So based on the original color tone itself before coloring, there was a large discrepancy in the result of the final outcomes of all those who tried it the same color product.
These were points I took note of :
1) The color before
2) Hair volume, hair texture
3) The color after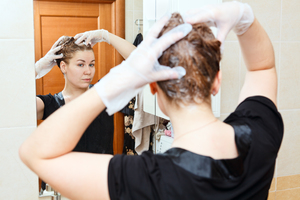 Source: Shutterstock
TIP. You can also explore the different types of hair color application techniques.
Albeit all the research done, we ourselves too have to be aware of our own hair color, volume, texture and length to be able to gauge the type and amount of color product needed to achieve the desired color. (Tip. You can get these information from your stylists)
Ultimately, when it comes to boxed dyes or color in general, regardless of the outcome, it's important to know that if you really like the look of it, go try it.
I learnt that spending a great deal of time in finding assurance by researching to see how it was for others who used the same product might just be unnecessary.
Hair color to me is ever changing, definitely it is a look that adds to your personal image, and it also works to give you a change of scenery when you really need it.
Till next time!
Check out my other posts here

: