Japanese Hair salon in Singapore <Hair Salon MICHAELA in Singapore>
Blog
ブログ
My daily routine
Date : 09/04/2020 12:02
theme : Other
staff : Satoko Enomoto
​​​​​​Hello everyone. This is
Satoko
from Tokyo Michaela.
How's things?
Today I will be going to try to write about my habit..
Actually I keep a diary every day. The content of diary varies.
For example the pleasure and pain of daily life.
Anyway I write about everything that had happened.
​​​​​​Of course it is private and personal. It simply can not be shown to anyone.
By the way this diary is excellent stuff, because we can use for 16 months.
In this modern age, putting down all the thoughts that pops in the head into texts without a pen will be probably the most normal thing in the future.
Even still I want to keep on to write by hand from here on.
To write out each letter, in prevention of dementia.
But more than that, the words carries emotions.
At that time of writing, emotions of what am I thinking, how I was feeling then.
Why I selected this word. Is the letter thin or deep.
It might be blurred and illegible.
A minute ago has already become a thing of the past. So it was me before but now not me anymore. Now I am already a new me.
Because the word "diary" brings significance for me as it is the memory of my past is brought to the future.
So I want to write my diary with much thought and care.
On days that seem to go well and not go well as expected, someday when the time comes in search for the answer for resolution, I would get it from the meaning felt from the entires in my diary.
So I will write about my days as it is.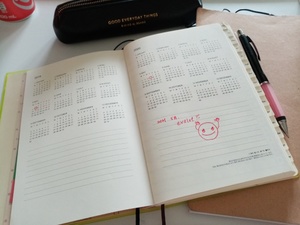 take care of yourself. Have a good day
Satoko
​​​