Japanese Hair salon in Singapore <Hair Salon MICHAELA in Singapore>
Blog
ブログ
Date : 15/09/2017 12:40
theme : How to care your hair
MICHAELA sticking to water, more commitment!

Even at home, I'd like you to take care of using chlorine-cut hair and skin-friendly water!

From such thought, MICHAELA has "Ionic Plus · Vitamin C shower head" made in JAPAN can cut chlorine 99%.
This product removes chlorine 99% with vitamin C effect,

In addition to showing effects on hair bruising,

It also has a relaxation effect due to negative ions!

Water pressure is also outstanding, with water saving / saving gas function also attached.
- Cut 99% of chlorine with vitamin C! Moisturizes your skin and hair

- Comfortable stimulation with ultra-fine water flow and gentle touch like silk

- Up to 50% water saving effect achieved with water saving / pressure boosting function!

- Large amounts of negative ions, healing shower time

- Cartridge easy to understand when refilling vitamin C

- Catch without missing delicate trash with filter function!


Because it is a universal standard, it can be installed also in Singapore's shower hose
You can buy this product in Singapore only MICHAELA!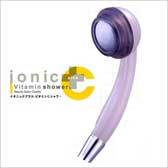 Ionic Plus · Vitamin C shower head
SGD 162.30
Please ask the staff for details!

Booking by phone: English: 6538-0273 / 6538-0263

\\Booking online//